E-News December 2007 Edition
A Review of ACTC Activities by Professor Mike Grimble
In the last few years the ACTC has moved to establish partnerships with companies that improves the service to members and provides a wider range of activities. The first of this type of relationship was probably a cooperation with Converteam in the delivery of hot strip rolling mill training courses which are now branded the Rolling Mill Academy . In fact, we have recently held another Rolling Mill Academy and on this occasion it was at Strathclyde University so that is focused a little more on future developments and advanced controls. My assessment is that is was probably the best event we have run in Glasgow which was due to the diligence of Gerrit van der Molen of ISC who organised and managed the training event. It ran over 5 days and there are now plans for another later in 2008.
In a similar vane we have organised three day training events with Emerson Process Control termed Process Control Academy which have been held in Leicester and in Stockport at the premises of Emerson. These have also been spectacularly successful attracting delegates not only from the ACTC members but from wider afield. Andy Clegg has managed and organised these events and he is planning the 2008 one to be held 5-7 March in Leeds.
A very different type of relationship has been established with National Instruments working both with their Austin, Texas office and their office in the UK. The cooperation in this case is very extensive ranging from mini projects and case studies to the organisation of joint one of two day workshops. For example, we have had very successful automotive workshops in Detroit moving around the three big automotive manufacturers Ford, GM and Chrysler. The next two day event will be held at the Dearborn In at the end of Feb / beginning of March 2008. There is also an aerospace workshop which is being arranged to coincide with the American Control Conference in Seattle during July 2008. These joint events enable the ACTC to cover design and modelling type issues and NI to cover the technology of for example, real time control. It is also helpful to introduce their new MATLAB like design and simulation facilities which now exist within LABVIEW.
National Instruments also cooperated with the Industrial Control Centre in the organisation of the three day workshop which is held at Strathclyde in September each year. This was also very successful with the first day dealing with technology issues, the second day covering industrial applications and the final day dealing with advances in predictive control. There are plans to enlarge this meeting for 2008 so that parallel sessions might be held thus allowing a large number of speakers and a wider range of topics.
One of the major news items of the year was the appointment of Dr. Arek Dutka to take over as manager of the ACTC from Dr. Andrew Clegg who has been appointed to the board ISC. There are many of the ACTC members that will already know Arek from the training courses and you will recognise his enthusiasm and depth of knowledge and I am sure we all wish Arek every success in managing the ACTC activities for the future.
Quite a number of new courses have been developed within the year and there is more about them elsewhere in this newsletter. However, I will mention the Mathematics for Engineers course which is applicable to a wider set of engineers to just control engineers. As with all the training courses they can be held at the ACTC members premises. The new Optimisation and System Identification Course has also been very well received. A word of caution for ACTC members is that they must not think that the only courses available are those categorised in the list of courses for members. The ACTC has produced a very wide range of material on MATLAB, LABVIEW, advanced control, classical control, intelligent control, system identification, signal processing, estimation theory and many applications. In some sense courses can therefore be put together rather like a pick and mix in a sweet shop. It of course not always possible to out together a desired course simply from the existing material but ACTC members also have a consultancy entitlement which enables a limited amount of time to produce completely novel material. It is therefore better to ask for the type of course you require since there is always every chance we can deliver it from existing entitlements.
One of the completely new initiatives is the development of an industrial control engineering course which will have many modules and be repeated in a number of locations. The idea is to allow engineers to take modules but if they miss a certain occasion to be able to catch up. A very wide consultation process has taken place and will continue to do so. However, the basic framework for the course is already in place. There are about thirty topics to be covered most of which apply to many companies but some of which are targeted like for example safety systems at the process industries and others are more appropriate for the machinery controls and transport industries.
The ACTC does of course work very closely with the Industrial Control Centre at the University of Strathclyde which has also seen some positive developments during the year such as the appointment of two new lecturers in control engineering (Dr Hong Yue and Dr Eric Bullinger). The centre has also attracted its first EPSRC research grant in the area of healthcare which concerns immune system responses. The centre has also been very active in trying to establish European funded projects in a number of different application sectors. Dr Reza Katebi and Dr Peter Martin won a best paper prize this year on marine systems (dynamic positioning systems controller tuning) and Professor Bill Leithhead has returned from his secondment to the Hamilton Institute which is a new centre in County Kildare in Ireland. This will considerably strengthen our capabilities on wind energy and other energy related areas.
In conclusion 2007 has been a very good year for the ACTC which was reflected in a very productive steering committee meeting during September and the number of training days provided which probably exceeds all other years.
May we wish you a happy festive season.
Mike Grimble
3rd Process Control Academy – 5-7 March 2008, Leeds
The third running of the Process Control Academy will be held in Leeds, from the 5-7 March 2008. The format will be the same as proved popular last year, with a mixture of introductory lectures and hands-on, together with more detailed application orientated presentations. The subject being covering this time will include modelling (both data driven and first-principles), system identification, adaptive control, optimisation (theory and application) and safety instrumented systems.
A web-page for the event has now been set-up, with more details and online registration. ACTC members will be entitled to two-free places on this event. Places on the event will be limited, and so early registration is advised.
To register or for more details please visit www.actc-control.com/processacademy.
Very Successful Nonlinear Industrial Control Workshop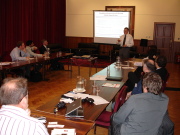 It has now become a tradition that every September we cosponsor with the University of Strathclyde a nonlinear control workshop which tries to meet the needs of both industry and academia. A new innovation this year was to have the first day cosponsored by National Instruments. The workshop was concerned with real time control and applications and hence it was very appropriate that the first day focus on software and technology for real time control. The second day of the workshop was as tradition dictated concerned with nonlinear control applications which were more relevant to ACTC members. The talks were more of a tutorial nature than the final day.
The final day of the workshop was more aimed at new developments in the theory and design techniques for nonlinear systems. This was mostly aimed at research engineers and industry, students and academics. However, one of the interesting things was that many delegates stayed for all three days of the meeting. There were in total just under 50 delegates who attended this meeting. For next year we are hoping to build the international participation and to possibly introduce parallel sessions to provide more opportunity for the contributors. The event was administered by Mrs Sheila Campbell who is to be congratulated for the smooth running and excellent organisation.
IChemE "Advances in Process Control 8", York, 17-18 Sept 2007
Andy Clegg was amongst the eighty attendees at the eighth running of this industry focussed conference organised by the IChemE Process Management and Control Subject Group. The presentations have a very strong bias towards practice and experience, and showcase what technologies are finding use in the petrochemical industries, which may find wider use in other process sectors over the next few years.
The first session "Data In – Information Out" started with a presentation from Newcastle University on the general usage of multivariable Process Analytical Techniques. Richard Sallis (ABB) then presented a new tool they offer that detect where plant-wide oscillations may be originating – allowing faulty valves to be pinpointed and repaired quickly. This is a very good example of an academic idea being productise, as the method was developed with Nina Thornhill (Imperial College) and has been presented at past ACTC events. Nina then presented her latest research topic that of automatically determining cause and effect paths from P&ID's. Robin Brooks (Curvaceous) presented their Geometric Process Control for visualising relationships in large data sets and how it can be used to aid operations through displaying a operating envelop and recommended moves.
The afternoon session, included presentations on methods for tuning multiple PID loops (Douglas Nicholson, Aptitude) and nonlinear model predictive control (Paul Turner, AspenTech). Adaptive MPC seemed to be a hot topic, with presentations from both Geoff Lewis (Invensys) and Ken Slaven (ADEX) – Geoff presented a new adaptive version of the popular DMC method, whereas Ken presented the well proven ADEX method, which uses online identification of process dynamics. Richard Hughes (Sabic) and William Heath (University of Manchester) talked about the problem of model integrity when used in MPC. Peter Burton (Linde) and Yucai Zhu described how Linde have rolled out MPC to a large number of plants, and utilised closed loop system identification to speed up deployment.
The second day started with some interesting talks on network security, condition based monitoring, Fieldbus diagnosis, wireless instruments and process simulators. The last talk of the morning was by Philip Masding (Ineos Chlor) which was particularly interesting, as they had developed in-house, a full dynamic model of a new plant. This model was used to aid commissioning by finding problems and then coupled to the live plant data and mimics of the DCS screens to provide operators with a high fidelity training simulator.
The last session was titled "Squeezing Your Assets", and included presentations from Sabic, Siemens, Honeywell. Paul Oram (BP) presented some very promising new developments he has been involved with getting a new form of adaptive control working on an offshore oil platform. Philip Hastings (Artenius) concluded the event by talking about the opportunities for improving exiting plant without having to invest in new tools.
All in all a very informative and useful event. Contact us if you would like any more information about any of these presentations.
ACTC Solves another Process Control Problem
One of the services the ACTC provides its member companies is consultancy effort to look at a control studies. Often for process companies these studies involve the investigation of control problems that may have proven difficult to solve or where limited resources have meant "workarounds" have become the norm.
Recently the ACTC was asked to look at a problematic level control problem, where the level control never successfully worked in automatic. Over the years the level had been left in manual and the operators had become used to making regular adjustments to the flows entering the vessel. A quick look at the problem showed that there was no fundamental reason why the loop should not work in automatic, and controller settings where obtained from a simple model. When on the plant, the problem actually transpired to be related to incorrect logic in the auto-manual logic, which created a large disturbance at changeover. As the controller was tuned to respond slowly (to ensure stability), these disturbances meant the controller never had time to settle before being deemed bad and put back in manual. Correction of the auto-manual logic meant that switchover now worked properly and the loop has been used under automatic control since.
As with many of these process control problems, the solutions are relatively simple if you know where to look.
Steering Committee Meeting No.28, Cathedral House Hotel, Glasgow
The industrial steering committee for the ACTC met on the evening of the first day of the workshop on Advances in Real-Time Control of Nonlinear Systems. Cathedral House Hotel is adjacent to Glasgow Cathedral. This Scottish Baronial-style building in the past served as the church's ecclesiastical headquarters.
A review of ACTC services was carried out and ways of enhancing the discussed. The meeting agenda included the following topics:
Membership and financial overview
Training activities
Reports and software deliverables
Technical Meetings
Case studies and consultancy
Mathematics for Engineers
The first course was held in University of Strathclyde, Glasgow on 29-30th August 2007 and was prepared for engineers, academics and students who, from a non-mathematical background, are currently practising in a field of engineering or science. The course was attended by 5 delegates.
The course was also held for Jaguar/Land Rover in Coventry, but this time the course was a combination of the Mathematics course and three control fundamentals lectures. 15 delegates were provided with the mathematical background that is necessary in the engineering practice. During the last day control specific topics were presented to complement this valuable training course.
Optimisation and System Identification
This three day training course introduced two very important topics of Optimisation and System Identification. The Optimisation is used across all the Engineering fields and the system identification is probably the most important and difficult step required for a successful modern control design. The course was held in the University of Strathclyde, Glasgow, on 13-15 November 2007 and was attended by 10 delegates.
If you would like to know more about the above and other ACTC training courses, then get in touch.
Details of our standard courses, including agendas
The list of courses delivered to ACTC members, as well as centrally held "scheduled" courses which all ACTC member companies can access
Download the ACTC Training Brochure which contains the same information that can be found on the ACTC web-site
Adept Scientific, who have recently joined the ACTC, is a company that helps customers to collect, analyse, simulate, organise and present data in order to deliver information and knowledge.
Their product range includes:
Mathematical and Simulation Products – software products including Maple, Mathcad, MathType, VisSim to name just a few
Data Analysis Products – software for a wide range of data analysis, graphing and statistical applications (e.g. FlexPro, Tecplot, GenStat, EasyPlot, the DADiSP and Canvas
Bibliographic Products and Writing Tools – software for researchers, authors and information scientists (e.g. Thomson ResearchSoft: EndNote, Reference Manager, ProCite and RefViz, WebClarity's BookWhere)
Data Acquisition Products – hardware and software products aimed at engineers and product developers who need to use PCs to record, monitor and analyse data (e.g. Measurement Computing, IOtech, DASYLab, Measurement Studio, DAS-Wizard and SoftwareWedge)
Electronic Circuit Design Products – integrated software for circuit design and PCB layout
Quality Control and Management Products – software for statistical process control (SPC)
Computer Aided Design Products (TurboCAD)
Laboratory and Chemistry Products – software for laboratory chemists
More information may be found on http://www.adeptscience.com
Contents
Last Year Successes and Next Year New Plans for the ACTC
ACTC News
February 2008: Introduction to Process Control, Glasgow, UK
February/March 2008: ACTC/NI US Automotive Event, USA
5-7 March 2008: Process Control Academy, Leeds University, UK
April 2008: ACTC/NI UK Automotive Event, UK
April/May 2008: Control Fundamentals 1:Theory, Glasgow, UK
April/May 2008: Optimisation and System Identification, Glasgow, UK
June 2008: ACTC/NI US Aerospace Event , USA
September 2008: Non-Linear Real Time Control Workshop, Glasgow, UK
Looking for
Receiving ACTC E-News by E-mail