E-News May 2011 Edition
The Importance of Training by Professor Mike J Grimble

Now that we are emerging from the dark days of the recession companies have much more confidence and are recruiting new engineers or retraining engineers. Training is important for both new staff and for professional engineers that need their skills refreshing in areas they may not use so frequently. Many leading companies particularly those in the aerospace and automotive industries are keen to ensure that not only control engineers are well trained in control techniques but that other groups are also exposed to the technology. There is a belief that software engineers or those involved with hardware systems would be able to work much better with control colleagues if they understood the basic of control systems engineering. Many of the classes the ACTC provides are therefore suitable for those that do not use control engineering in their day to day engineering work but nevertheless, have an important impact on how well the system is controlled. The ACTC has become very proficient in offering basic training for process operators, process technicians, automotive calibration engineers, aerospace software and systems engineers and many other that need a simple introduction to control engineering and why it is important.
The computer-based exercises are valuable for reinforcing hands-on as are the presentations in the transfer of knowledge. The standard ACTC training courses and the bespoke training courses offered by ISC both therefore include a liberal sprinkling of hands-on experience.
Finally, a new trend which has emerged following the recession is for companies to have a well planned future training program. Tailoring of courses to specific needs is also becoming more common, for example with all the design examples being built around a particular design study or a course focused on a specific application and the company might contribute expertise to the overall program.
It is very likely that those companies which invest in training will be those most likely to innovate and grow. In US terms we can say investing in training is a no brainer. In Glasgow terms we can say this is a financially prudent investment.
Further details of ACTC standard training courses and ISC tailored courses may be obtained from Meghan McGookin.
Mike Grimble
Workshop: Improved Control of Wind Farms
ISC is proud to present a two day workshop on 'Control Systems Design for Wind Power Generation' to be held on 25th and 26th May 2011. The particular emphasis of the workshop is on offshore wind farm control but the workshop will cover individual turbine controls and supervisory systems for total power control in wind farms. Most of the contributors will come from a European Union supported project aimed at reducing maintenance costs and limiting the possibilities of breakdown for offshore wind farms. All aspects of this problem will be considered from the modelling and simulation to classical and advanced control of such systems.
The workshop will be at a tutorial level and will start off with a few talks that should act as a refresher on the basic control techniques involved. If you are an Aeolus project member or belong to the ACTC then there are free places available. On the evening of the first day, there will be a workshop dinner so that delegates can network. There will also be the opportunity for companies to present ideas at the end of the first day. The workshop should be suitable for engineers in the power industry that may be exposed to working on such systems in the future and also to developers and suppliers wishing to describe their technology and developments during the discussion sessions.
Full agenda and online registration can be found on our website here.
The workshop has already attracted a few major utilities company such as RWE Npower, Scottish Power and turbine manufacturers. Please register early to avoid any disappointment or contact us for further information.
Houlder has announced the selection of Industrial Systems and Control as a partner to develop its Turbine Access System (TAS)™.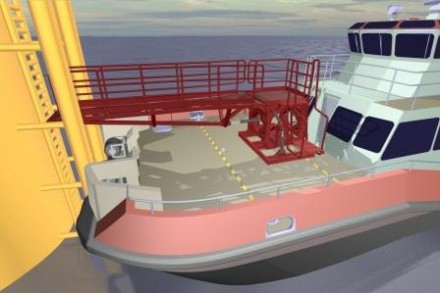 The Turbine Access system (TAS), jointly developed by Houlder and with BMT Nigel Gee, offers significant improvements in offshore wind farm system safety - specifically personnel transfer between Operation & Maintenance workboats and turbine towers. It utilises a motion compensated gangway and dampening bow rollers to deliver access at higher sea states than existing solutions. It does this without the need for vessel dynamic positioning systems or complex stabilised platforms.
Industrial Systems and Control (ISC) Ltd, has been selected to develop and supply the control system component of the TAS. This will process the motions detected by both the relevant motion reference system and proximity/distance sensors and then drive the pitch, surge and roll compensation of the gangway.
On announcing the award of contract, Jeff Powley of Houlder commented that the TAS's control system was key to the overall project success - adding "We're delighted to have ISC on board given their in-depth understanding of control technologies together with their unrivalled experience in diverse industrial applications and proven track record of innovation"
The Turbine Access System will appear at Southampton's Seawork Exhibition, June 14-16 2011 with production units planned to be available in Quarter 3 this year.
More details can be found here.
New One Day Course on Kalman Filtering and System Identification
There are many similarities between least squares system identification methods and optimal linear filtering techniques. In fact, some of the most popular identification methods may be derived from the Kalman filtering equations or vice versa. The new one day course includes both an intuitive and a mathematical introduction to Kalman filtering methods followed by an overview of system identification techniques for obtaining black box models of mostly linear systems. The course includes some hands on experience. Further details maybe obtained from Mike Grimble or Meghan McGookin.
Two ACTC Training Courses for Boeing, Seattle
Prof Mike Grimble and Dr David Anderson from the Aerospace Sciences Research Division of the University of Glasgow recently recently presented two training courses to Boeing in Seattle that were very well attended with over 40 very enthusiastic and demanding delegates. The first course was on Control Fundamentals and included a very wide range of engineers that needed to work with control specialists or required a refresher course. The second was an intermediate level course on system optimisation dealing with all aspects of static and dynamic optimisation and involving presentations on a wide range of aerospace optimisation problems by Dr Anderson.
In fact, Boeing has been very influential in determining the structure of ACTC training courses. It was their initiative which encouraged the development of courses at specific levels of complexity both to provide a structured training development program and to ensure engineers attended the most appropriate courses. First level, intermediate level and advanced level courses are now made available and the industrial applications are often tailored to the particular industry and this particularly applies to the hands-on session where the focus is either on automotive, aerospace, process or energy systems.
We were particularly grateful that the manager of the Ed Wells training program that organises training for Boeing engineers, Dr Gautam Sengupta who kindly attended the two courses and was very complimentary regarding both the presentations and the hands on material.
Four ACTC Training Courses for Chrysler, Detroit
Prof Mike Grimble and his colleague Petros Savvidis presented four training events over a two week period to Chrysler in Detroit recently. This involved two different groups within Chrysler; the first involved with the design of powertrain control systems and the second with electrical / hybrid vehicles. The introduction to control design techniques covering control fundamentals is very popular with companies and this course was presented in both weeks over three day periods. There were over forty engineers for the first week and about twenty five engineers for the second week. In both cases the group managers kindly attended the sessions and both Dr Hussain Dourra and Dr Faz Westlake helped and encouraged their groups to participate fully. There was great enthusiasm throughout the courses and it reflected their interest in the subject.
A course was also presented covering kalman filtering, observers and also system identification techniques. This was also very well received. During the second week of courses a request was made to introduce predictive control techniques and after some hasty preparation work on the evenings an overview of predictive control design methods was added to the curriculum and was warmly welcomed by those attending. We were grateful for the kind words from the managers of both groups at the end of their respective weeks and for the suggestions for future initiatives we should take.
Enhancing Cooperation with National Instruments
The ACTC is continuing to build its links with National Instruments in Austin, Texas and with Newbury in the UK. A major new ISC project on a marine application (see above "TAS System Development") will utlise the combined flexibility of the CompactRio realtime hardware and LabVIEW development software. NI and the ACTC are also keen to develop specialist training events where the strength of the control toolboxes and simulation tools now available in LabVIEW can be demonstrated. ISC has been also been using LabVIEW to develop new hands-on for training courses as it provides a highly visual, intuitive interface making the learning more effective. Another key benefit is that control panels and simulations can be provided for delegates machines without them having to purchase the LabVIEW products, which is helpful during the course and using the hands-on after the course is over.
Prestigious Bode Lecture on Predictive Control at the CDC Conference
Prof Manfred Morari from ETH in Zurich presented one of the most prestigious talks on the role of theory in control practice at the IEEE Conference on Decision and Control held in Atlanta, Georgia during December 2010. Manfred presented a high level contribution which introduced the history of control and then described fundamental ideas in predictive control. He described a number of applications and the origins of predictive control due to for example, Cutler and Ramaker of the Shell Oil company in Houston in the late 1970's. He covered the initial industrial applications and various suppliers and the early strategies for applying predictive control. He also had a brief look to the future involving online optimisation of nonlinear control problems. His presentation included a nice visual summary of some of the new numerical approaches to nonlinear predictive control. Finally he covered some of the many applications and the potential of the techniques. His talk ended with an invitation to visit Zurich at the 2013 European Control Conference.
Technical Hint on Dealing with Transport Delay Problems by Tecspert
Transport delays in systems can cause responses that range from being poor to being unstable. It is the additional phase shift which is introduced by the delay within the feedback loop which causes the difficulties. The effect of transport delays is similar for continuous and discrete time systems but compensation methods are easier to implement in the discrete time case.
In some industries the Smith Predictor is very well known as a means of compensating for transport delays. This certainly applies to the process industries and for certain companies in automotive and other machinery control related areas. A Smith Predictor enables the designer to tune the control loop as if the delays were not present. Thus, if a PID controller is employed the designer can focus upon the tuning of a PID control for the same system but without delays. The way it works is that the Smith Predictor contrives to provide a feedback signal which because of prediction removes the effect of the delay. An engineer that is familiar with say PID tuning can then employ the usual tuning techniques and it is the structure of the Smith Predictor which provides the delay compensation effect.
It is clear from above that in fact the Smith Predictor is not a control design method since one still has to use a design procedure such as PID compensation, lead lag compensation or pole placement. However, it does help to mitigate the problems of transport delays.
There are of course some problems. The idea does not work if the system is open loop unstable. It also relies upon a model and is sensitive to the model knowledge. However, it can still be very beneficial, since if systems have transport delays which are of the same order or greater than the dominant time constant in a system then traditional methods of controller tuning may not be good enough. The proof of its value lies in the long record of success it has achieved.
Finally, note that there are many advances which enable optimal control of transport delay systems, even including nonlinearities, to be achieved. However the good old Smith Predictor is simple to derive intuitively and remains a valued component in the tool kit of the control engineer.
Contents
ACTC News
Forthcoming ISC/ACTC Events
10% discount off the total price if you make a booking of 4 or more places (whether it is on one course or spread over 2 to 4 courses). If you are member of IET/IChemE/InstMC/ISA, you will receive a further 10% off for each member.



It would be much appreciated if you can get in touch to let us know whether there is particular training course(s) that is/are interested to you so we can schedule such training course(s) more regularly or possibly holding the training course near/at your premise.
Looking for
Receiving ACTC E-News by E-mail