E-News December 2013 Edition
Real time Control and Digital Implementation by Professor Mike J Grimble

The parent company for the ACTC technology transfer organisation is Industrial Systems & Control Ltd. Over the last few years the company has received several awards from National Instrument's for their work on real time control. The project that was recognized in this way was concerned with an offshore wind turbine access system developed by Houlder which is a marine related consulting company. The so-called Turbine Access System (TAS) problem was to control a hydraulically manipulated gangway to provide a safe and easy route from a support vessel to an offshore wind turbine. Such a facility is important for maintenance or repair purposes. It provides access at higher sea states than existing solutions and does not require dynamic ship positioning control.
A second marine control project which has also just won an award (see below) is concerned with a gripper arm used to hold a wind turbine monopile as it is driven into the sea bed. National Instruments CompactRIO equipment and LabVIEW software have been used on this and other projects very successfully, and particularly suitable for developing tailored solutions to engineering problems and provides an efficient development environment. More importantly it has very robust and reliable equipment that can be used for on-board installation.
Successful implementation of these systems depends upon the usual need for good software practices, listening to customers' needs and then acting accordingly. However, there is also a need to understand digital systems which behave somewhat differently to the analogue continuous time systems of old. Some of the traditional control methods still apply on digital systems like PID control and frequency domain analysis methods, but it is easy to be caught out by the quirks and peculiarities of sampled data systems. The ACTC courses on digital control have therefore been very popular and have been recently revamped for presentation at Ford at their home in Dearborn, Michigan.
If you would like further information on either the National Instruments LabVIEW and CompactRIO systems, or on the training courses, please contact Lesley Breen or Meghan McGookin or call 0141 847 0515.
Mike Grimble
Scheduled Training Courses, Glasgow, 2014
Early Bird Discount!!! We are offering up to 25% discount on our training courses if registration is received 4 weeks before the scheduled date.
4th - 6th February 2014 - Robust and Reliable Control Systems Design: This course illustrates the basic concepts of robust and reliable control system and problems associated with multivariable systems.
13th - 15th May & 18th - 20th November 2014 - Control Fundamentals: This three-day course introduces the basic control engineering concepts in terms of Linear Systems Models, Classical Control Theory and Practical Aspects in Control. The course presents analysis of a linear control system in terms of stability and performance. In addition, Classical Control Method such as PID controller (including tuning methods), lead-lag and root locus are also covered. Significant hands-on examples are used to reinforce the lectures..
8th July 2014 - Introduction to Process Control: This basic level course is aimed at technicians, operators and new graduates working in a process control environment. The course combines computer based learning together with some lecture based learning to reinforce the ideas through real-life examples.
16th - 18th September 2014 - Optimisation Methods: This two day course provides an introduction to optimisation methods for use in practical applications. It covers both unconstrained and constrained optimisation methods and more advanced concepts such as dynamic optimisation and genetic algorithms. The lectures are reinforced by Hands-On simulation and design examples that provide practical experience of the concepts covered.
ISC Wins 2012 & 2013 Customer Application of the Year & Advanced Control Systems Award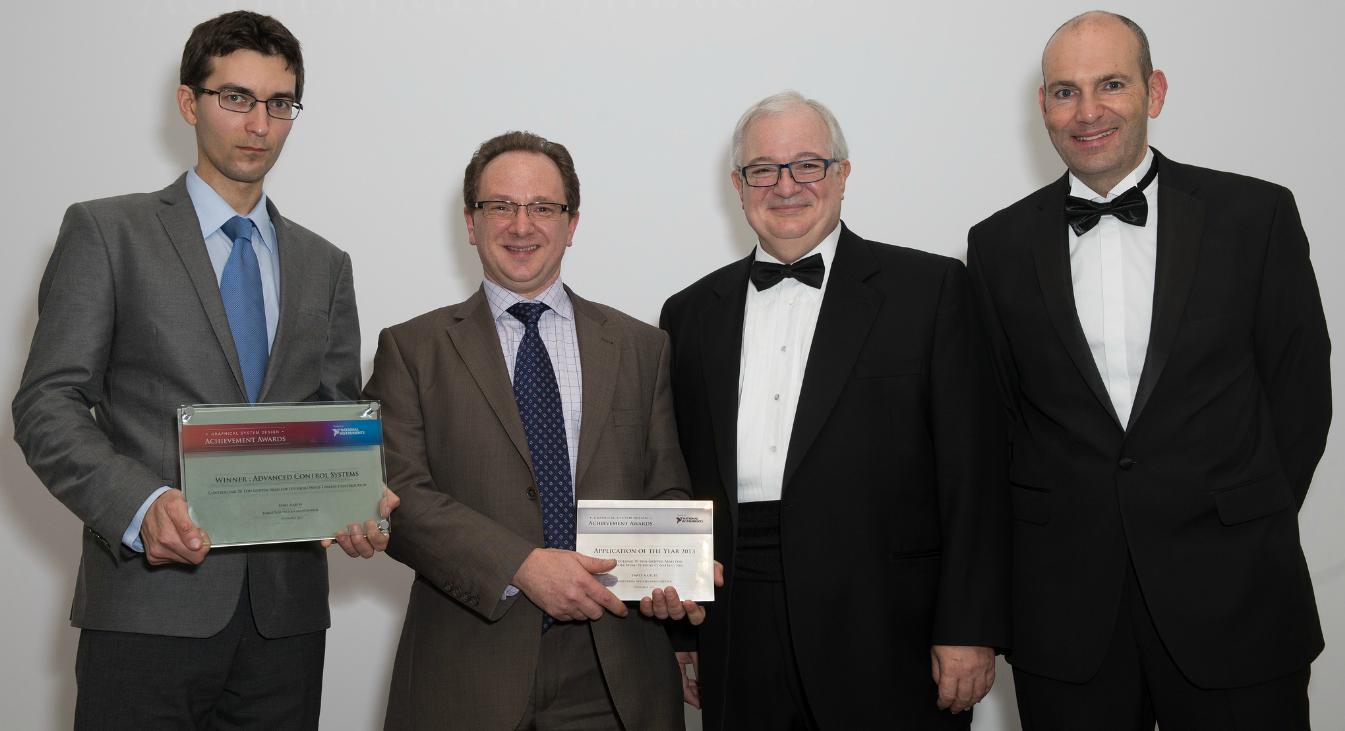 Industrial Systems and Control (ISC) Limited, was once again recognised for its innovative control application on 20th November 2013 in London, UK during the National Instruments (NI) GSDA Awards.
Following its recognition in USA for the control system developed by ISC to operate the Turbine Access System (TAS), ISC's project to develop the control software for a very large hydraulic Gripper Arm was named Customer Application of the Year and also won the Advanced Control Systems category, this makes ISC the first ever company winning the awards in consecutive years.
Download our full press release here: ISC PR NI GSDA 2013 UK.pdf , or continue reading to hear more about this application.
BP Upstream Process Control Training
The Upstream Process Control Course for BP has been delivered for the 12th time by Dr Andy Clegg in conjunction with BP's own specialists. This highly interactive 4.5 day course includes control of offshore separators, compressors, gas turbines, fired heaters, gas dehydration, subsea control, slugging control as well as application of MPC and optimisation in the offshore oil and gas industry. Whilst the course is intended for new graduate engineers looking for a refresher we continue to get excellent feedback with many trainees saying it is one of the best courses within BP.
If you are interested in hearing more about this course, or maybe even having a course with bespoke elements please contact Meghan McGookin or Andy Clegg.
Training Course at Ford Centre in Dearborn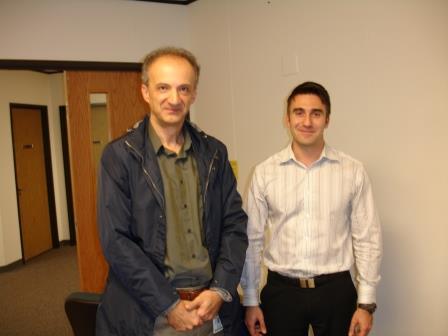 The ACTC has been providing training for the Ford Motor Company at its headquarters in Dearborn (part of outer Detroit) for many years. Two courses were recently held at introductory level and one at advanced level. One of the courses we have run over four mornings and one over four afternoons. The idea was this would ensure Ford engineers would not have to be away from their desks all day.
The introductory course was Control Fundamentals II which is really more advanced introductory material on topics like PID Control. As with all ACTC courses half of the course includes hands-on experience on suitable and relevant examples. An innovation on this course and others for Ford was the introduction of one of their own leading research engineers to give a presentation. Dr Mrdjan Jankovic gave a talk on the use of Smith Predictor type solutions in automotive systems.
The second course was on Digital Control and over the years the material on the subject has been improved by the ACTC partly through the parent companies experience in real time control on industrial applications. One of the new featured on this course was an extended design study on an industrial application where engineers has to go through all stages of a modelling, kalman filtering, control design and implementation steps.
Professor Mike Grimble and Petros Savvidis presented the training course and the photograph shows Petros with the distinguished guest speaker Dr Mrdjan Jankovic
If you are interested in hearing more about this course please contact Meghan McGookin
ISC Contnues to Provide Successful Training Courses to Rolls Royce
ISC has been providing training courses for Rolls-Royce, Derby for the last ten years. Each training course is specifically developed to Rolls-Royce requirements such that the course will provide the engineers with fundamental knowledge of the subject and how the subject is relevant to Rolls Royce application. As the years progress, each training course has been updated to keep up with modern technology. This year has been a busy year and we have delivered five training courses at the Rolls Royce Derby site. Every course has been well attended and positive feedback has been received.
Keynote Talk at the Birmingham IET Control and Automation by Professor Mike Grimble
Professor Mike Grimble, a Director of ISC Limited and Research Professor in the Industrial Control Centre at the university of Strathclyde, presented a Keynote talk at the IET Control and Automation Conference in Birmingham recently. This event is very focussed on advanced control for industrial applications and it attracts a high proportion of engineers and managers from industry. His talk was entitled Problems and Benefits in using Advanced Control in Industrial Applications. As the name suggests Professor Grimble presented a wide ranging overview of what is good and what is bad in advanced control for real applications. His extensive experience was gained whilst working for Ciba Chemicals in Grimsby, GEC Electrical Projects in Rugby, the Industrial Control Centre at Strathclyde and Industrial Systems and Control Limited, which has been in business for more than two decades.
The presentation was videoed and the IET is to make available the talk on their website http://tv.theiet.org/technology/computing/16756.cfm' together with copies of the PowerPoint synchronised to the presentation. It is interesting that even though the talk attempted an introduction to new and advanced methods with great potential, and described many problems in real applications, the part of the talk which attracted the most attention was probably the simplest. That is, a short summary was provided for each of the major advanced control methods detailing what was good and what was bad and where each method should be used, and where they should be avoided. This part of the presentation which involved awarding stars according to potential (5 stars for the best) was widely regarded as the most useful part of the presentation and resulted in numerous requests for copies of the presentation. ACTC members may obtain a copy of the talk from ISC Ltd.
Case Study : Controlling 70-Ton Gripper Arms for Offshore Wind Turbine Construction Using LabVIEW and CompactRIO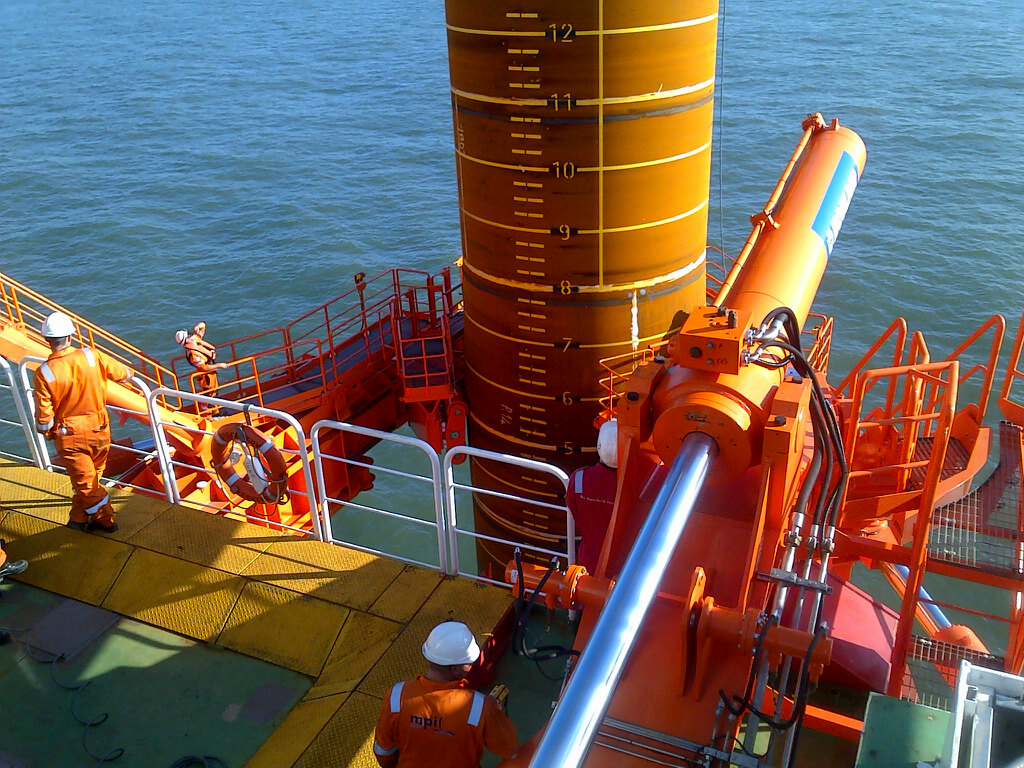 The combination of LabVIEW and CompactRIO delivered the computational power required for our low-level control and kinematic calculations, as well as the determinism and reliability required for our safety-critical operational logic." by Pawel Majecki, Industrial Systems and Control.
The Challenge: Creating an intuitive, reliable system to deploy, position and stow hydraulic gripper arms used in guiding steel monopiles for offshore wind farm construction.
The Solution: Developing an integrated control system that uses an NI CompactRIO system and NI LabVIEW software to perform real-time data acquisition, monitoring and a position control algorithm.
Download the full case study here: http://sine.ni.com/cs/app/doc/p/id/cs-15650#.
Technical Paper: Adaptive predictive expert control of superheated steam temperature in a coal-fired power plant
This paper describes the application of an adaptive predictive expert (ADEX) control solution to the attemperation process for superheated steam temperature control in the ScottishPower coal-fired power station at Cockenzie near Edinburgh in Scotland.
The project comprised two phases, the first of which was a trial to establish the feasibility and potential benefits of ADEX compared with the existing control system by using a software platform on PC connected to the plant Programmable Logic Controller (PLC) via Object linking and embedding for Process Control (OPC), and the second phase was to verify and install a permanent, robust solution using an ADEX controller module with a digital link to the plant PLC. The overall objective of the project was to reduce steam temperature variations caused by load changes and other perturbations in order to protect the steam turbine (Unit 3) and to minimize thermal stresses in the attemperation pipework and boiler and so minimize premature failures along with associated cost risk. In the first phase, ADEX demonstrated a 50% improvement in reducing steam temperature variation overall compared with the existing method, and the subsequent installation of the ADEX controller module provided the necessary robustness and backups for a final industrial solution. The results of both phases are displayed graphically.
Copyright © 2012 John Wiley & Sons, Ltd.
Download here
Follow Us on Linked In!!
Industrial Systems and Control is now on linked in, please follow us here for all our up to date news, events and publications.
New Training Courses
Further evolution of the training courses
The ACTC training courses have been developed over a two decade period and this experience is now reflected in the highly professional courses available to both members and non-members. Moreover, the courses are competitively priced being based up on a library of course material continuously being improved through regular events.
Many members of the ACTC and non-members have taken the Introduction to Control course or Control Fundamentals course. This provides some of the basic material needed by control engineers or people that work with control experts. Up to recently there has not been a second level control fundamentals course but this was a requirement of Ford in Dearborn and we now have a three day course which might be termed Control Fundamentals II which we offer. This course extends material on PID controller design and provides more comprehensive information on controller tuning and applications. It also introduces the various structures used in control systems and tools like the Smith Predictor for compensation of time delay effects. It also provides at an introductory level an overview of some of the benefits of using advance methods. It is important for engineers to know the design options that are available and what are the advantages of different techniques. The main aim of this overview is to give an intuitive understanding of the methods available and when to use. The course touches upon difficulties in control design such as those introduced by nonlinearities, interactions, disturbances and noise.
All ACTC courses are of course tailored for the particular application areas of most interest to the company. Most of the material is standard but the instructors are very aware of the needs of the engineers attending and much of the value follows from the interaction that arises.
There is a continuing interest in predictive control and great current interest in nonlinear predictive control. The predictive control courses offered by the ACTC programme have therefore been upgraded and extended with the new features covering practical design and new hands-on applications.
In fact one of the new features of the ACTC courses is the introduction of some very detailed design studies that may take a morning or afternoon to complete. This enables delegates to try out the various methods discussed and to encounter the practical problems that arise. This type of innovation is customer driven and in fact the detailed design studies on wind turbine control systems stem from the needs of Alstom Wind Turbines in Barcelona. Similarly, our extended application studies on automotive systems have followed from the needs of companies like Chrysler in Auburn Hills, Michigan and Ford in Dearborn.
One of the more advanced courses introduced in recent years which have also currently been revamped is that on robust and reliable control. There are new methods of improving the robustness and reliability of control systems and new fault monitoring and fault detection approaches which give an early warning of potential faults or failings. The great potential for these method in industry is clear.
Further details of the training courses may be obtained from Meghan McGookin or call 0141 847 0515.
Developments in Nonlinear Predictive Control
ISC Ltd. has been working towards the development of new industrial predictive controllers for more than a decade. Software tools in both Matlab and National Instruments LabVIEW have been developed and a very wide range of applications have been considered. Many companies working on predictive control have focused on the process industries but ISC has been more concerned with faster systems for applications such as automotive engine control and wind turbines.
The ISC software and design tools include many practical features which expand the applicability of algorithms and simplify the design process. A key requirement is to have simple numerical algorithms for real time implementation. Another need is to be able to cope with a very wide range of system descriptions and to have flexibility in the performance cost specifications. By evaluating the software tools on a range of applications and by steadily improving the package, a total design capability has been produced with a very practical implementation objective.
The potential for both linear and nonlinear predictive control for industries ranging from the petrochemicals to wind energy can be assessed through the training courses offered by ISC. One day, two day and three day courses are available to be held at company premises through the auspices of the ACTC program. These courses include numerous examples and provide hands-on experience in the application of these methods. Further details may be obtained from Meghan McGookin or call 0141 847 0515.
Book Review : Sliding Mode Control and Observation (Control Engineering)
By: Yuri Shtessel, Christopher Edwards, Leonid Fridman and Arie Levant, Published By: Birkhäusser, £53.00
The subject of sliding mode control is increasing in importance and relevance to applications. A new book by Yuri Shtessel, Christopher Edwards, Leonid Fridman and Arie Levant provides an overview of the subject and is entitled Sliding Mode Control and Observation. It is published by Birkhäusser and is written in a form that is very suitable for engineers in industry. This is of course a topic with a strong theoretical base and the text reflects this. But it is also a useful engineering text covering design and application issues.
As the title suggests sliding mode observers are also covered in addition to the control problem. In addition to conventional sliding mode control and observer design second order sliding mode controllers are discussed. To provide an intuitive insight the text also includes a chapter on frequency domain analysis of both conventional and second order sliding mode controllers. The applications covered include reusable launch vehicles and satellite formation control, car steering control and blood glucose regulation.
This text is a recommended addition to the bookshelves of any company likely to use the sliding mode approach which is gaining in popularity for researchers and has good potential for applications.
Book Nerd
Book Review : Nonlinear System Identification: NARMAX Methods in the Time, Frequency, and Spatio-Temporal Domains
Published By: Wiley, Chichester, £101
This book is by Steve Billings from Sheffield University on a subject where he has been a leading researcher and has made many contributions. The text is called Nonlinear System Identification: NARMAX Methods in the Time, Frequency, and Spatio-Temporal Domains. This book is of value in industry and academia.
As might be expected the book provides an excellent introduction to both linear and nonlinear system identification methods. The text has a very clear way out and uses numerous diagrams to illustrate the point and it provides a very complete set of references. It covers difficult areas such as model structure detection which is not often covered and it includes many practical hints amongst the mathematical analysis.
I particularly like the style of this text which is good for engineers even though the subject can be very mathematical.
Topics like the identification of nonlinear systems in the frequency domain are not often covered in other books and it is also nice to see the traditional model based identification methods covered alongside neural network techniques. The topic of severely nonlinear systems is also unusual and stems from the authors wide experience in applying these techniques.
Both discrete time and continuous time models are considered and time varying systems which add additional difficulties.
The book may also be of interest to signal processing engineers since much of the material relates to common problems in that subject.
The material on case studies in nonlinear system identification is particularly valuable and unusual.
The performance of control systems is often limited by nonlinearities. Unfortunately the models for such systems are often poorly defined or too complex to model easily. Advanced control systems of the future will need to deal with nonlinearities properly and some methods of obtaining nonlinear models will be essential. Commercial tools are slowly becoming available or are available in the subject but there remains the need for special solutions and in both cases this is a very useful textbook. Highly recommended for engineers bookshelves.
Book Nerd
Contents
Real time Control and Digital Implementation by Professor Mike J Grimble
ACTC News
Forthcoming ISC/ACTC Events
Early Bird Discounts Avaliable
An early bird discount of up to 25% is avaliable for registrations received 4 weeks before the course start date (see online registration pages for details).
Also a 10% discount off the total price if you make a booking of 4 or more places (whether it is on one course or spread over 2 to 4 courses). If you are member of IET/IChemE/InstMC/ISA, you will receive a further 10% off for each member.
Training Course: Robust and Reliable Control Systems Design, February 2014, Glasgow
Training Course: Control Fundamentals, April 2014 , Glasgow
Training Course: Optimisation Methods, June 2014, Glasgow
Training Course: Modelling,Identification and Parameter Estimation Methods, August 2014, Glasgow
Training Course: Predictive Control for Linear and Nonlinear Systems, October 2014, Glasgow
Other Events of Interest
Looking for
Receiving ACTC E-News by E-mail