E-News October 2010 Edition
New Premises and New Attitude for the ACTC and ISC Ltd. by Professor Mike J Grimble

ISC Ltd., the management company of the ACTC program, has moved premises and expanded its services. Dr Andrew Clegg has also taken over from Andrew Buchanan as Managing Director of the company. You can now find us at 36 Renfield Street, Glasgow, G2 1LU and contact us on 0141 847 0515. The new premises are close to the main railway stations in Glasgow and the municipal car parks. It is a short taxi ride from Glasgow airport and a ten-minute walk to the University.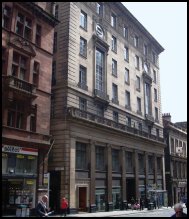 Formed almost two decades ago, the ACTC has provided companies with a range of training, consulting and technical support services. ISC Ltd. has been in business for over two decades involved with more long term projects and bespoke training initiatives. Prior to the move, ISC had been based close to the Industrial Control Centre in the University of Strathclyde. The association provided ISC engineers with state of the art simulation and design methods and the University with access to real industrial problems to challenge the theories and provide experience.
The move to the new company premises reflects a change in balance of projects from more theoretical studies to closer to real applications which have their own challenges and require a difference business and working environment with a focus on quality and delivery. Over recent years ACTC members have been more concerned with immediate help with problem solving or with feasibility studies regarding new solutions. It is believed that the new premises will provide a highly professional working environment where ISC's record of success will be complemented by looser but valuable ties with the University of Strathclyde.
The two central pillars of the ACTC services and to some extent ISC's capabilities lie in the provision of training courses and in the modelling and simulation of industrial processes. During the last two years the training courses have been developed so new ones are in the pipeline. ISC's experience in simulation has been helped by major studies on offshore wind turbines through an EU program and on automotive control through support mainly from North America. As before, ISC and the ACTC will continue to work with the University, providing models and experience for students and researchers and cooperating on International, European Union and EPSRC projects.
Mike Grimble
Wind Farm Control Training Workshop
A two-day workshop on wind energy is to be held during February/March 2011 in Glasgow. It is to be organised by ISC Ltd., which is one of the leading partners in the European Union supported project, Aeolus, on offshore wind farm control and members of this project will kindly contribute to the event.
The workshop, with hands-on sessions, is intended to provide a tutorial introduction to the control techniques involved in wind turbines and an overview of the current research in offshore wind energy systems aimed at reducing breakdowns and limiting maintenance costs.
The first day of the workshop will mainly be concerned with basic control engineering design techniques needed in wind turbine control systems for either individual wind turbines or wind farms. The second day will focus on the coordinated supervisory control of wind farms.
The first day will cover the following topics:
Modelling and simulation of nonlinear systems
PID control for regulating loop control design
Disturbance rejection (LQG design)
Nonlinearities (NGMV design toolbox)
Predictive control for supervisory systems
Design issues in supervisory control including the effects of delays and robustness.
The second day will cover the following topics:
The problems of reliability and fatigue in offshore wind farm control
Robustness, monitoring and reconfiguration
Optimising the performance of offshore wind farms
Supervisory predictive control for wind farms
Distributed versus centralized control.
Finer details are currently being defined but if you would like to register your interest in this training course please contact Lesley Breen.
Toyota's Visit to the ACTC
Dr Christopher Vermillion of Toyota's research centre in Ann Arbour, Michigan, USA has recently visited ISC and the ACTC at our new premises. This was to discuss the ACTC case study undertaken for Toyota on the application of advanced predictive control and multivariable design methods to powertrain controls.
During the last twelve months, Toyota has received a combination of the ACTC services including the preparation of a survey report, a training event and a case study. A very effective cooperation has been established and we are sure that they will contribute to future ACTC automotive workshops and events.
Dr Vermillion was also given a tour of relevant groups in the Department of Electronic and Electrical Engineering of the University of Strathclyde, where he met with researchers and academic staff to discuss recent research initiatives and developments. He also kindly presented a seminar in the Industrial Control Centre.
New Practical Multivariable Control and Tuning Course, Being held on 16th - 18th November 2010 - REGISTER NOW!!!
A new robust and multivariable control course is to be held on 16th - 18th November 2010. This course will focus upon practical issues of design and controller tuning. Part of the course will be concerned with the design of controllers for multivariable systems taking into account disturbances and interactions. The course will also cover issues of robustness and reliable control systems design. Methods of modelling uncertain systems will be considered together with techniques to achieve high reliability in the presence of faults and failures including fault detection methods and reconfigurable control. Methods to assess the quality of control and to analyse stability and robustness properties will also be discussed. Further details of the course may be obtained here or from Lesley Breen.
Automatic Tuning of Metal Processing Controls
The European Union have announced their support for a new project on new methods of tuning and commissioning controllers for rolling processes and for other applications in the metal processing industry. The project is called Cognitive Control Systems in Steel Processing Lines for Minimised Energy Consumption and Higher Product Quality and involves a consortium of companies throughout Europe.
The lead involves BFI in Germany ( VDEh-Betriebsforschungsinstitut mbH - BFI) and researchers in the Industrial Control Centre at the University of Strathclyde will be contributing to the development of the advanced control algorithms. The results from the project will be disseminated through the mechanism of the ACTC.
Dr Reza Katebi at the University of Strathclyde or Professor Mike J Grimble can be contacted for further details of the research activities.
Courses and Research for the Nuclear Industry
The ACTC is currently planning a new training course with EDF Energy particularly aimed at the nuclear industry. The course will cover all aspects of power plant control problems found in nuclear applications. Interest in this course can be reported to Dr Andy Clegg.
The ICC at the University of Strathclyde is currently completing a two year project on the development of new condition monitoring tools for nuclear reactors. The project has involved the development of new nonlinear and robust filtering and estimating methods. Further details can be obtained from Professor Mike J Grimble.
ACTC Meeting at the University of Stirling
Dr Amir Hussain of the University of Stirling has kindly agreed to host a joint IEEE/ACTC meeting which will cover a wide range of topics but particularly industrial applications. The meeting will be held at the University of Stirling and all ACTC members will be welcome. Further details will be announced shortly but if you wish to be kept informed of the details of the event you may contact Dr Amir Hussain.
Papers on Advances on Theory and Applications
Staff of ISC and of the Industrial Control Centre at the University of Strathclyde produce a range of papers each year for both conferences and journals. Members of the ACTC can obtain copies of these papers by contacting Lesley Breen covering such areas such as:
Theory and Design:
State Space Based Non-Linear Predictive Control
Polynomial Systems Based Non-Linear Control
Hybrid Systems Control
Non Linear Generalised Minimum Variance Control
Non Linear Minimum Variance Estimation
Non Linear Wiener Based Estimation
Control of State Dependant Systems
Estimation in State Dependant Systems
Applications:
Nuclear Reactor Condition Monitoring
Automotive Power train Control
Predictive Control and Applications
Rolling Mill and Process Control Academies
The ACTC has received enquiries about the dates of the next Rolling Mill and Process Control Academies. These two events have been very successful in the past and have been arranged in cooperation with Converteam and Emerson, respectively. Now that the world economy is recovering plans are being considered for the next events. Please contact Lesley Breen if you wish to be kept informed about these events.
A Step Response in Control Training
To enhance the learning experience of trainees attending our training courses, we have recently started to redevelop some of the MATLAB/Simulink hands-on examples used in our existing training courses using LabVIEW. The LabVIEW based hands-on examples offer several benefits over the corresponding MATLAB/Simulink versions:
They do not require expensive simulation software licences;
They run on the trainees' own machines at anytime during and/or after the actual course;
They have much more process-relevant and intuitive graphical front ends which allow the trainees to focus on the actual exercises rather than trying to learn the software
An example LabVIEW based hands-on for evaporation tower level control is available from the ACTC website. Please visit the following page to download the example:
http://www.actc-control.com/training/examples.asp
The LabVIEW hands-on runs on a Windows machine, as a standalone executable, providing a copy of the LabVIEW 8.6 Run-Time Engine (Standard) for Windows is installed. The latter is free and is available from National Instruments.
These new hands on were used at the recent process control course held at Conoco's Humberbank Refinery and the trainees commented on how useful the new hands-on exercises were. The course is to be repeated for Scottish Power in a few weeks time. An agenda can be found here and anybody wanting to have this put on for their staff should contact us for a quotation.
Another development is a bespoke course built for BP entitled Upstream Process Control covering control of separation, compressors, gas turbines, basic fractionation, fired heaters, boilers, gas lift and MPC applications. We have given the course in Sunbury (UK) which attracted both process and control engineers from a wide variety of sites, and subsequently in Houston (USA) and Baku (Azerbaijan), all of which have received some great feedback. Please contact Andy Clegg if you would like to know more about this specific course.
50 Years of Nonlinear Control and Optimisation
An IFAC Workshop "50 Years of Nonlinear Control and Optimization" was arranged by IFAC at the Royal Society, London and organized by Professor Alessandro Astolfi which took place from September 30 - October 01, 2010.
The goal of the meeting was to "reflect" on the state of nonlinear control theory, its applications, connections with and use of optimization methods.
The timing, location and topic of the meeting was inspired by the 80th birthday of Prof. D.Q. Mayne, who has largely contributed for over 50 years to the foundation of nonlinear control, of optimization and to establishing links between these disciplines.
The meeting was organized around tutorial presentations on optimization, nonlinear control, constrained control and optimal control. Speakers included: K. Astrom, R. Brockett, P. Caines, G. Goodwin, L. Ho, A. Isidori, P. Kokotovic, A. Krener, H. Michalska, S. Morse, L. Polak, J. Rawlings, M. Davis, E. Kerrigan, D. Limebeer, R. Vinter and Mike Grimble.
For further information visit the Workshop web site:
http://cap.ee.ic.ac.uk/~astolfi/IFAC_HW_10
Opportunities in Medical Electronics and Robotics
Control engineering is now being used in all aspects of health care systems from modelling the behaviour of the human body to the control of drug supplies. The ACTC is maintaining an interest in this area and cooperating with the Industrial Control Centre at the University of Strathclyde which is developing new programs in this topic. Cooperation with the Bio Engineering unit at Strathclyde is central to the initiatives - watch this space for further developments including a major initiative on surgical robotics with MAKO based in Florida.
Visiting Professor Pedro Albertos

Visiting Professor Pedro Albertos (Valencia, Spain) recently spent some time at the Industrial Control Centre working on multivariable systems with internal delays and he was also very interested in Mike Grimble's Nonlinear Generalized Minimum Variance Control (NGMV).
Professor Pedro Albertos, is a Fellow of IFAC and has been a full Professor since 1975, at Systems Engineering and Control Department of UPV, Spain. As an Invited Professor he has delivered courses and seminars in more than 30 universities and research centers. He has been teaching courses on Advanced Control Systems, Intelligent Control Systems and Systems Theory.